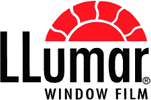 CPFilms, Inc., America's pioneer creator of window films, offers you a wide selection of professionally installed films that increase comfort, cut energy requirements, beautify windows, reduce fading and glare and improve safety. Architects, designers, builders and building managers depend on LLumar® for simple and costeffective solutions to a whole assortment of window problems.

Advantages
LLumar films that reject up to 80% of the sun's heat can make a significant difference in your energy costs. In addition to reflecting the sun's heat, it absorbs almost all (99%) of the incident ultraviolet rays. Your furniture, draperies, and carpet fade less and last longer. The are easy to maintain and have a tough, durable coating which gives the surface excellent scratch resistance and assures carefree maintenance with most conventional methods of window cleaning.


LLumar® window films are installed as a retrofit product directly to the interior side of the glass. Installation of LLumar® film causes minimal disruption to interior activities and many times can be accomplished during off hours.


SGO Designer Glass is proud of its reputation as a "problem solving" company. We are always seeking to extend the boundaries of glass and design with our diverse product offerings.


The SGO Designer Glass experience begins in either our studio, your home or your business. During this step we try to gather as much information about your project and needs. We will sit down with you to look at numerous samples with different colors, textures and thicknesses, as well as discus all of your installation options. If you are unsure of what it is you'd like to do, not to worry, we can help. Our design consultants have numerous tools and templates and are ready to assist you in developing your ideas.


Average fabrication lead time is 2 to 3 weeks.